Ductless Mini Splits
---
Mini Split Heat Pumps have incredible efficiency, are long-lasting and an affordable solution to zoned cooling and heating in your home. The unique design of the mini split system allows for installations in older remolded homes as well as new construction.
LG duct-free systems are available in a range of sizes and styles--including systems that can heat and cool multiple rooms with a single outdoor unit to fit almost any need. The indoor units are available in many different types to fit with the look and feel of your home.
---
A Whole New Way to Think About Air Conditioning
With the duct-free split system from LG you now have a home climate control option that is quiet, easy to install, heat or cool individual rooms for personalized comfort and is often more efficient than traditional air conditioning.
Duct free split systems have been use for decades in other countries but are still relatively new to the United States. You might be more familiar with bulky, noisy, and innefficient window units or complicated central air solutions with elaborate, invasive ductwork. A duct-free system essentially streamlines a traditional central air system in several ways; utalizing just an outdoor condensing unit, one or more indoor untis mounted on the wall or in the ceiling, and a slender conduit for piping lines and wiring.
Instead of pushing cooled or heated air through duct work the old fashioned way, duct-free split systems put an indoor unit into each room. This approach is much more efficient because these indoor units deliver the conditioned air into the room that requires it without the energy loss from the air traveling through any duct work.
The outdoor unit's inverter compressor uses smart electronics to ramp the system up or down to achieve the correct temperature and then only uses minimal energy to keep the room comfortable. Because each room has its own thermostat and controller the termperature can be set specifically for each room for greater comfort and even greater savings.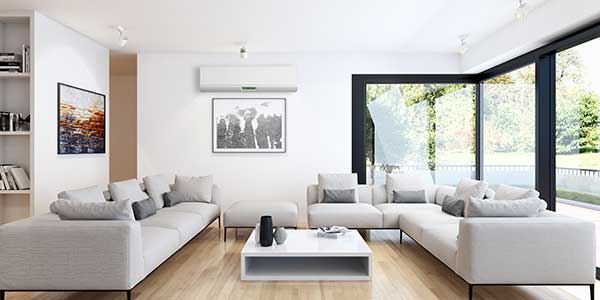 Single Zone
LG Duct-Free Split single zone systems offer many styles of indoor units to complement any décor. These one-to-one systems include an outdoor unit complemented with an indoor unit, offering a complete air conditioning system for any home or light commecial space.
Multi Zone
Multi zone heat pump systems provide outdoor units for two, three, four and up to eight separate zones. A variety of indoor units are available for any application; systems can be configured with all non-ducted, all ducted, or with both non-ducted and ducted indoor units.
PENN-TEK provides maintenance and repair to all makes and models of mini split heat pumps.
Our team installs industry leading LG & Daikin Mini Split systems.